Balabushka Performance Chalk
400 Baht - Available in stock at Thailand Billiard Shop

This chalk is the hottest product on the market right now. Similar to other higher priced brands but much more affordable and with the famous Balabushka name.

It really helps to get your miscues under control and you'll find yourself having to chalk up less as it remains on your cue longer than other leading chalks.

There is a difference!

It doesn't have to cost $25 to be performance chalk!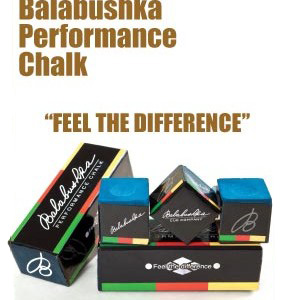 * Less miscues. And stay on tip longer.
* Works good with both leather or phenolic tips.
* You need to chalk the tip less times during a game.
* Seem one application can easily last you 3-4 shots.
* Adheres well to tips and offsets very little onto cloth.
* Ferrule remain unblemished - easy to clean off the shaft.
* It grips your tip and the cue ball so well.
* Make on drawing the ball, with a lighter stroke.